Advanced Modules
For advanced users!
Advanced modules certify capabilities that allow advanced commands to be executed in four of the most commonly used applications.
The Advanced Modules are:
WORD EXCEL ACCESS P. POINT 
100% Success! We make learning a game!
The material is handled with screenplay questions with the possibility of Video Answers

Advanced and friendly exam preparation software

Organized material, fully compatible with the examinations of the certified examination bodies:

ECDL – UNICERT

Exam Simulation

Free Mock Tests!

Workshop?

Whenever you can, unlimited, in addition to class hours!

Written guarantee of obtaining a diploma

Free Review!

Courses in the most modern software.

(WINDOWS 10 | OFFICE 365)
με μια ματια!
Units

4

Mock Tests

3

Duration

4 W

Level

Advanced

language

Ελληνική

Students

4-7

Success

100%
Examined sections:
Word Processing-Advanced Level




This module certifies advanced skills in creating complex documents, as well as knowledge that increases productivity and efficiency in handling demanding documents in group or individual tasks.

Spreadsheets-Advanced Level




This section allows the use of spreadsheets for data analysis with the production of complex reports, performing complex mathematical and statistical calculations, thus improving productivity.

Presentations – Advanced Level




This module requires advanced skills in organizing, designing, and creating high-level presentations with hyperlinks, complex charts, and graphic illustrations.

Databases-Advanced Level




This section delves into advanced techniques for creating and managing databases for the organization of large volumes of data and their conversion into critical and valuable information.
Certifications
Certifications
You have all the options of the recognized ECDL, UNICERT players.
SmartSchools are officially authorized testing centers

Frequent examinations, 2 times a week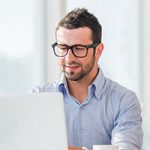 PERTESIS I.
Head of Studies
Lesson with Teachers!
The teachers of SmartSchools are of a high level, certified by EOPPEP in modern teaching practices. The educational process is carried out with the physical presence of a teacher and not with simple video lessons