FREE COMPUTER COURSES FOR ADULTS
ECDL COURSES in 1-2 weeks
ECDL COURSES that include the modules: WORD EXCEL INTERNET ACCESS P. POINT in WINDOWS 10 & OFFICE 365 environment.
Guaranteed certification for each

ASEP

announcement

Start classes every week with flexible hours, mornings and afternoons, so you can make up in case of absence
SmartSchool | 9 REASONS for 100% Success!
The courses are conducted by

highly

experienced

Certified

Teachers

by EOPPEP

The material is processed without boring theory memorization, but through scripted questions with Video Answers,

which are provided to you at home for practice.

Advanced and user-friendly exam preparation software,

Organized material, fully compatible with the examinations of the certified examination bodies:

ECDL – UNICERT.

Exam Simulation with Free Mock Tests!

Unlimited FREE Internship

ECDL COURSES with the most modern software.

(WINDOWS 10 | OFFICE 365)

Written guarantee of obtaining a diploma

Free Review!
με μια ματια!
Units

6

Mock Tests

5

Duration

2-4 W

Level

Basic

Language

Ελληνική

Students

4-7

Success

100%
Examined sections:
Text editing: 

Creating business letters and formatted documents

Internet: 

This section covers the management of information and communications via the Internet

Spreadsheets

: 

Quantitative and qualitative processing of mainly numerical data

Computer Use and File Management

: 

Develop basic skills related to file creation and management, network use and data security.

Using databases

:

Understanding some of the basic concepts of databases and developing skills in using a relevant application.

This includes creating and modifying tables, queries, types, and reports.

Presentations

: 

Create, format, modify, and prepare presentations using different slide layouts and print distributions.
Certifications
Certifications
SmartSchools has all the options of the recognized ECDL, UNICERT players.
SmartSchools are officially authorized testing centers

Frequent examinations, 2 times a week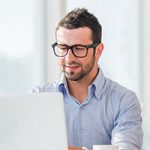 PERTESIS I.
Head of Studies
Lesson with Teachers!
The teachers of SmartSchools are of a high level, certified by EOPPEP in modern teaching practices. The educational process is carried out with the physical presence of a teacher and not with simple video lessons